Pinewood Derby 2006

The pack Pinewood Derby was the first weekend in February. At left is a picture of #2's Sword car on the left. Most of his races finished this way with the car about a car length ahead of the other racers. Early in the races, his car and a competitor took turns setting the track record times. But then his car actually got faster and he set the track record in his seventh race and tied it again in the ninth. Overall his car finished first in the pack, so we'll be going to the district races again this year.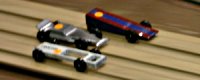 At left is #1's Trogdor car closest to the viewer. He liked the open hole in the body that I used on my car last year, so he worked up a car like that for this year's races. His car was second or third fastest in the Webelo 2s and was in the top 20 of the pack.
I also built two cars for the races this year, but didn't end up with any photos of them on the track. One was an open hole car similar to Trogdor above (except in red and a little thicker) to race in the open stock class. It finished 2nd to another father. I also entered a box car in the open unlimited class. For that car I took a block of jatoba (brazilian cherry) and weighted it up and stuffed it in the box a normal pinewood derby kit comes in. It weighed in at 24.2 ounces and it managed to finish first in the unlimited class, beating out the two heavier competitors.
Update: April 8, 2007
Here are studio shots of the cars.
Thursday March 2, 2006 · Permalink
---