Loft Bed Photo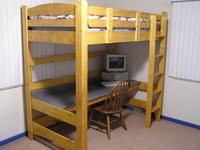 The loft bed (shown completed at left) has been slept in twice now and son #2 has said it's wonderful.
I did build the cork board and bookcases as shown in the plans. I'll be installing the cork board later, but the bookcases will be omitted since they overlap the desktop and take up much needed desktop space. I'll be building a small frame (1×4 stock) as a base for the bookcases so they'll fit snug to wall and using them that way.
Tuesday November 25, 2003 · Permalink
---
Loft Bed Has Been Assembled
Hooray! The loft bed for son #2 has been assembled and he'll be sleeping in it tonight. I'll have to post a photo later.
Sunday November 23, 2003 · Permalink
---
Loft Bed is getting closer to being finished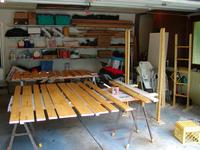 The loft bed for son #2 is getting closer to completion. The sanding has been completed and orange shellac has been choosen for the finish. To help make the finishing go quicker, I'm using a small (3") roller to get the shellac to the wood and then brushing it out. It's much easier to get good even coverage over the whole 3' and 6' lengths without overlap marks with this method.
Sunday September 14, 2003 · Permalink
---
Tuning up your sandpaper
I've finished construction on a loft bed for son #2 and have started the sanding. Except that my 120 grit sandpaper was leaving much bigger scratches than I'd expected. A call to my father to ask if he knew what I could be doing wrong elicited this tip:
Tune up your sandpaper by taking two pieces of the same grit and rub them together to knock off any oversized grit that might be present.
Saturday July 26, 2003 · Permalink
---